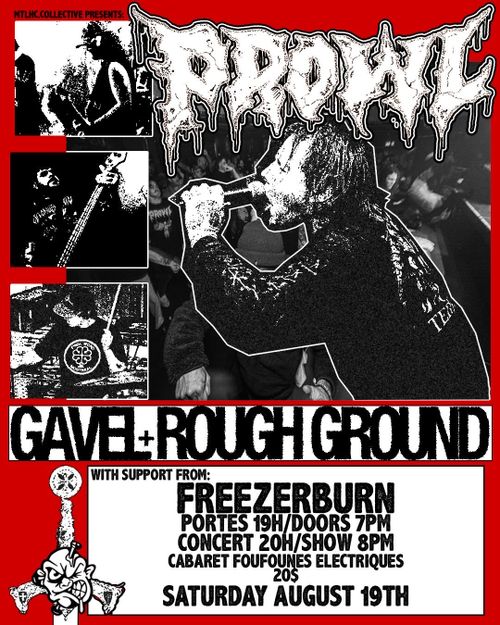 Prowl, Gavel, Rough Ground, Freezerburn
---
---
MTLHC Collective PRÉSENTE...
PROWL sera de retour pour un concert à la maison durant leur tournée de l'Est du Canada. Accompagné par ROUGH GROUND de France, GAVEL de Hamilton ainsi que FREEZERBURN de Montréal, ce concert est à ne pas manquer! Billets en vente très bien!
PROWL will be stopping in their hometown for a show in August during their Eastern Summer Tour with ROUGH GROUND from france, GAVEL from Hamilton and FREEZERBURN from Montreal. Tickets on sale very soon!
19 Août 2023/August 19th 2023
Portes 19h/Doors 7pm
Concert 20h/Show 8pm
Cabaret Foufounes Électriques
20$
Flyer by @beaboutitzine
PROWL
https://linktr.ee/prowlmtl
GAVEL
https://linktr.ee/gavel_hc
ROUGH GROUND
https://roughground.bandcamp.com/album/demo-2022-2
FREEZERBURN
https://m.youtube.com/watch?v=pw6Vib13FIA