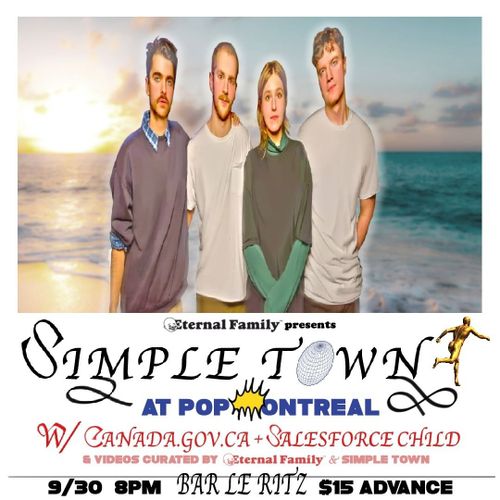 SIMPLE TOWN 🏃 CANADA.GOV.CA 🏃 SALESFORCE CHILD 🏃 ETERNAL FAMILY
---
---
"On September 30th (le trente de septembre) we'll be doing an hour (une heure) of sketch as part of @popmontreal , presented by @eternalfamilytv , alongside @canada.gov.ca and @salesforcechild , with a mix of videos curated by us and Eternal Family (la famille eternelle). Quebec law mandates that half the show be in French so we will do our best to honor their beautiful heritage!"
SIMPLE TOWN
"Simple Town is a comedy group in New York."
https://simplesimpletowntown.com/
+
"The official website of the Government of Canada"
+
SALESFORCE CHILD
"Summer Emerald/Salesforce Child is a multidisciplinary artist, interdimensional psychic medium, spiritual leader, medical doctor, starseed, and angel warrior who comes from a small farm in southern Ontario and now lives and works in Montréal."
https://linktr.ee/salesforcechild
+
ETERNAL FAMILY
"Eternal Family is a home for alternative entertainment to exist in a non-corporate environment."
9/30
8PM
BAR LE RITZ
$15 ADVANCE
🎫 https://www.universe.com/events/simple-town-canadagovca-salesforce-child-curated-videos-by-eternal-tickets-3GSBHD