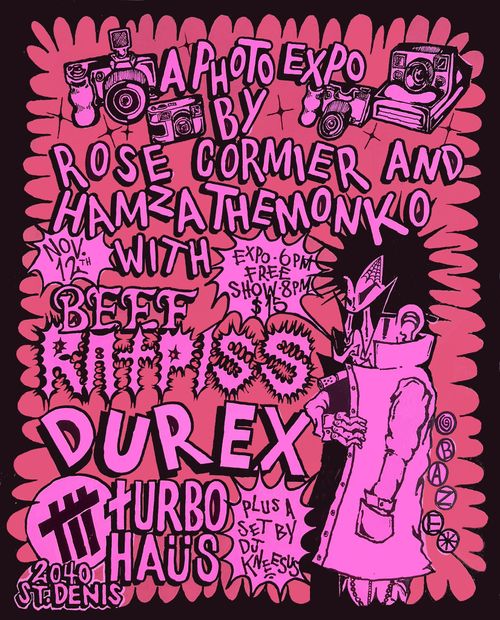 Rose & Hamza's Photo Expo + Ratpiss + Durex + DJ Kneesus
---
---
BOTH STILL DOCUMENTING MTL'S UNDERGROUND (AND NOT SO UNDERGROUND) MUSIC SCENE THROUGH THEIR RESPECTIVE LENSES, ME (@velours.souterrain) AND HAMZA (@hamzathemonko) INVITE YOU TO COME LOOK AT SOME OF THEIR COOLEST WORK FROM THE PAST YEAR.
AND AS IF THAT WASN'T ENOUGH WE INVITED OUR BUDDIES FROM RATPISS AND DUREX TO COME PLAY SOME MUSIC THAT WILL DEFINITELY SCARE MY GRANDMA AWAY.
+A SECRET SET MAYBE?
ALSO ULTIMATE COOL GUY DJ KNEESUS' DJ'ING ALL NIGHT LONG
THE EXPO'S FREE, SHOW'S 15$ CASH AT THE DOOR. EXPO AT 6. SHOW AT 8PM BUT REALLY 9 IF WE'RE BEING REAL YOU&ME. AT TURBO HAÜS, DUH.
IT'S ON A SUNDAY IN NOVEMBER YOU'VE GOT NOTHING BETTER TO DO ANYWAYS. BRING A FRIEND, BRING YOUR MOM, HELL BRING A REALLY WEIRD FIRST TINDER DATE!
I PROMISE TO BE COOL&APPROACHABLE
(one night only deal)
INSANELY COOL POSTER BY @baze72
(sadly BEEF had to drop off this show)