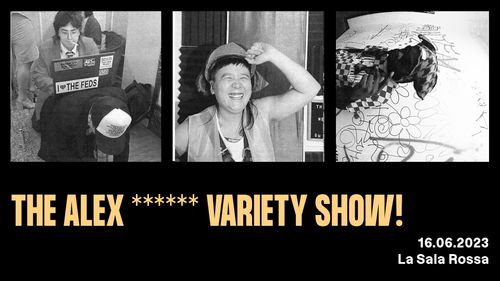 THE ALEX A***********s SHOW avec IWant2BeOnTv
---
---
SUONI PER IL POPOLO 2023 presents : "The Alex A***********s Show" avec IWant2BeOnTv
Friday June 16th // Vendredi le 16 juin
Doors/Portes : 19h30
Spectacle: 20h00
25$ / 30$ (30$ for show+rave https://fb.me/e/3ybCIk0j1)
La Sala Rossa / 4848 Boul. Saint Laurent, Montreal
Tickets https://thepointofsale.com/tickets/czz230616003
The Alex ****** Variety Show
Ladies, Gaydies et Theydies, bienvenue à une soirée extraordinaire de chaleur hors marque qui vous fera sûrement transpirer si les vagues de chaleur ne l'ont pas déjà fait. The Alex **** Variety Show est la suite de "The Alex A*********s Show", une série de performances artistiques explorant ce à quoi la télévision pourrait ressembler entre les mains de délinquants homosexuels. L'épisode de ce soir présente un tsunami de talents : un concours de mangeurs de hot-dogs, les marionnettes d'ombre de Donna Parker, le triangle amoureux de Jane Harms, xeruD et Louis Cza the Black Greek God ! Il s'agit d'un enregistrement "télévisuel" en direct ! Ce qui veut dire que vous pourriez très bien être filmé comme un membre du public extrêmement beau. Venez nombreux à cette soirée de divertissement et de frénésie !
The Alex ****** Variety Show sera suivi d'une soirée TV à La Sotterenea ! Les billets sont au prix de 25$ pour chaque événement, ou 30$ pour les deux ! Nous vivons à une époque où vous n'avez pas besoin d'enregistrer vos émissions préférées sur le DVR, alors pas d'excuses ! Venez faire la fête et récupérer cette douce lumière bleue tout au long de la nuit de vendredi à samedi !
[EN] The Alex ****** Variety Show
Ladies, Gaydies and Theydies, welcome to an extraordinary evening of off-brand heat that'll surely make you sweat if the heat waves haven't already. The Alex **** Variety show is a continuation of "The Alex A*********s Show," performance art series exploring what television could look like in the hands of queer delinquents. Tonight's episode features a tsunami of talent - A Hot-Dog Eating Competition, Donna Parker's Shadow Puppets, Jane Harms Love Triangle, xeruD and Louis Cza the Black Greek God! This is a LIVE "TV" TAPING! Meaning- you may very well be on camera as an extremely gorgeous audience member. Come one, come all! to this night of entertainment and frenzy!
The Alex ****** Variety Show will be followed by a TV Party at La Sotterenea! Tickets are 25$ for each event, or 30$ for both! We are living in a time where you don't need to record your favourite shows on the DVR so no excuses! Come party and reclaim that sweet blue light All Friday Night Long!
_____________________________________________________________
ACCESSIBILITÉ // Les informations sur l'accessibilité de La Sotterenea seront ajoutées sous peu. Contactez-nous pour plus d'informations.
ACCESSIBILITY // Accessibility information for Sottorenea will be added soon. Contact us for more information.
~~~~~~
Suoni Per Il Popolo reconnaît que le territoire sur lequel nous sommes rassemblé.e.s est le territoire traditionnel et non-cédé du peuple Kanien'keha:ka (Mohawk), un lieu qui a longtemps constitué un site de rencontre et d'échange entre plusieurs nations.
Suoni Per Il Popolo would like to acknowledge that the land on which we gather is the traditional and unceded territory of the kanien'keha:ka (Mohawk), a place which has long served as a site of meeting and exchange amongst nations.