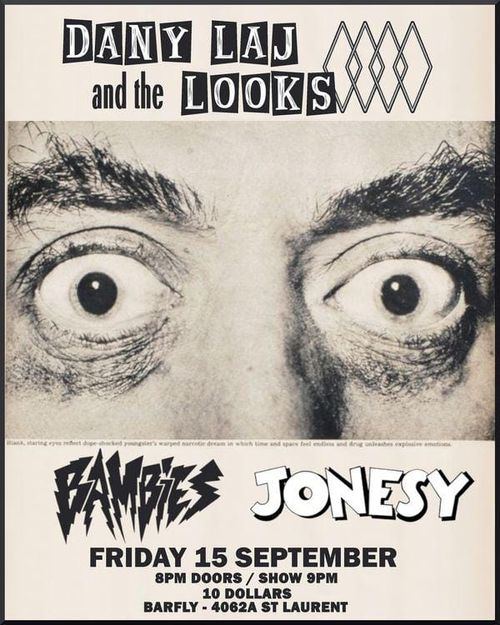 JONESY + BAMBIES + DANY LAJ & THE LOOKS
---
2 months ago
Barfly
4062A St Laurent, Montréal, Québec, Canada
---
FRIDAY SEPTEMBER 15, three local bands who redefine rock'n'roll each in their own right. Come witness this absurdly good spectacle at Montreal's premier hockey-hosing dive bar, BARFLY.
Dany Laj and the Looks "Dany Laj writes the kind of tunes full of yearning: for love, for commitment, for purpose, for getting the hell out of town. Fortunately he wraps this angst in the kind of tuneful confections that make fast friends on one spin." - Big Takeover Magazine
BAMBIES will be debuting songs off their next album, coming off the heels of 2021's epic Summer Soon.
"Bambies are the kind of band that sees that first Real Kids LP as just as important as the Ramones 'End of the Century' playing rambunctious punk rock from the other side of the tracks. - Dead Beat Records
https://thebambies.bandcamp.com/album/summer-soon
Also on-board the snide and irreverent JONESY, who just released their fantastic sophomore album "2".
"....on "2" they go much further than that. On their supercharged sophomore album they expand their sonic territory incorporating more riffy Hard Rock elements that we've only caught glimpses of in the past. It's as if Slade, Rose Tattoo, the Dictators, Status Quo, UFO and Teenage Head all coalesced into one wild 'n hedonistic Rock 'n Roll riff machine hellbent on revamping Rock 'n Roll for a whole new hornier generation." - Dead Beat Records